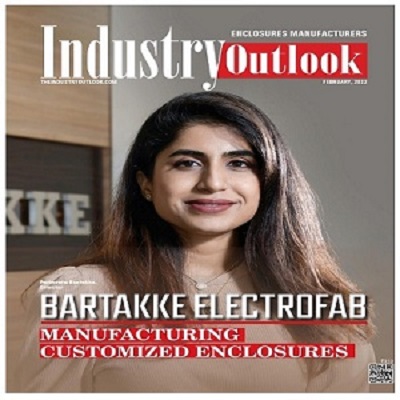 In the last two decades, the demand for electrical enclosures has increased a lot and is primarily driven by rapid growth in industrialization coupled with the trend towards process automation. Government regulations which promote the usage of electrical enclosures are also expected to drive the demand in the industrial manufacturing segment. As a result, there is a mounting pressure on the manufacturers to deliver standard products. Customers expect manufacturers to design highly innovative enclosures seeing the current trends of market. Also, the electrical enclosures that are ideally used to mitigate corrosion are demanded by customers across the food and beverage segment.
Bartakke Electrofab Pvt. Ltd. is the provider of innovative enclosure solutions with its strong process-based systems and strong focus on product quality. The company has expertise in providing modular solutions to the customers as per their need. Bartakke Electrofab is an ISO 9001:2015 certified company and all the enclosures manufactured by it conform to CE certification under 2006/42/EC machinery directives. With a legacy of more than 30 years, the company has firmly established its customer base in Middle Europe, Asia and USA.
Focused on Innovative Solutions The company has been providing innovative solutions to address the needs of the customers with rapidity and a strong sense of commitment. The company was awarded a patent by the Government of India for the use of Riveting technology in assembly of enclosures. This innovation as enabled them to ship the enclosures in CKD/flat packs, saving the end user transportation and warehousing costs. "Every member of Bartakke Electrofab strives to put in efforts to ensure that the delivered products are of high quality," says Parineeta Bartakke, Director.
Bartakke Electrofab is one of those very few companies whose manufacturing facilities and corporate office are powered by solar energy. Also, this initiative is crucial for them in achieving corporate environmental sustainability goals.
The company's two manufacturing units are powered by 200 KW Solar Power Generation System. By installing these solar power generation systems, the company has saved 7920 tonnes of carbon emissions in the entire lifespan of the system. It has a wide range of sophisticated CNC machines to process various operations with high repeat accuracy, consistent quality and assured performance.
"Every member of Bartakke Electrofab strives to put in efforts to ensure that the delivered products are of high quality"-By Parineeta Bartakke
All the enclosures manufactured at Bartakke Electrofab are powder coated to ensure high finish. The company has a full-fledged 8-tank conveyor Autophoretic Dip Priming Plant for superior corrosion resistance. This pre-treatment plant is RoHS complaint meeting European Commission Directives. Moving ahead, it is looking forward to introduce Industry 4.0 principles in enclosure manufacturing in the near future to be able to offer superior aesthetics alongside efficiency of design.